Environmental groups want Wyoming elk to starve
(Read article summary)
Five conservation groups have filed suit in federal court to stop the US Fish and Wildlife Service from feeding elk in Wyoming's National Elk Refuge during the winter.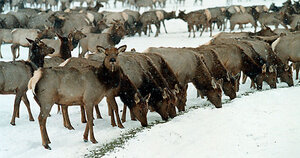 AP/Jackson Hole Guide, David O'Connor/FILE
Five conservation groups have filed suit in a federal court to stop the US Department of the Interior from feeding elk in Wyoming's National Elk Refuge.
The groups say that the artificial feeding, which began a century ago, is creating a breeding ground for diseases that are harmful to wildlife and livestock.
The suit, was filed Tuesday by Earthjustice, a nonprofit environmental law firm, on behalf of the Greater Yellowstone Coalition, Jackson Hole Conservation Alliance, Defenders of Wildlife, Wyoming Outdoor Council, and the National Wildlife Refuge Association. An Earthjustice press release alleges that the feedings are destroying the ecosystem:
Winter feedings on the National Elk Refuge have altered the plant and animal communities so dramatically that it is no longer a healthy, properly functioning environment. This practice violates the National Wildlife Refuge System Improvement Act, a directive from Congress to provide healthy habitat. The agency's current plan acknowledges the potent disease risk that accompanies high concentrations of animals like those found on the Elk Refuge in winter, and that the best way to reduce the threat and promote healthy populations of bison and elk is to phase out the annual winter feeding. Yet the plan takes no action to address the threats to the refuge and the elk that live there.
"Elk feeding was established as a means to help the elk, but now we know that crowded feedlines threaten a wildlife disease epidemic that could kill hundreds of these magnificent animals," said Tim Preso of Earthjustice who is representing the coalition. "It's time to adapt our elk management to deal with this disease threat before elk start dying on the National Elk Refuge."
"Basically we've got way too many animals on too small an area for too long a time," said Barry Reiswig, a retired National Elk Refuge manager. "They're way over the Elk Refuge's carrying capacity."
---