Hybrid availability plunges as demand rises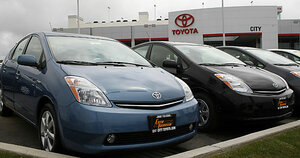 Photo by Justin Sullivan/Getty Images/NEWSCOM
A sudden spike in demand for gas-electric hybrid vehicles has left automakers struggling to keep up.
The Detroit Free Press quotes one Toyota dealer who has a four- to five-month wait on the Prius and a three-month wait on the Camry Hybrid. According to the story, Prius sales declined more than 37 percent in May – but only because the company ran out of cars to sell. This is in stark contrast to April, when sales increased by 61 percent.
A Toyota spokesman explained to the Freep that the company is currently unable to produce more than 21,000 Priuses per month, with 15,000 going to the United States.
Blame the holdup on batteries. Time magazine reports that the specialized nickel-metal-hydride batteries used in the Prius and other hybrids are increasingly hard to come by. Toyota is planning to build two battery plants in Japan, but they won't come online until 2010. GM, meanwhile, is "deep into negotiations" to buy a Detroit-based hybrid batterymaker. "The irony," notes Time, "is that the batteries are virtually identical to those GM declined to put in first generation vehicles back in the 1990s, as related in a recent documentary Who Killed The Electric Car."
---