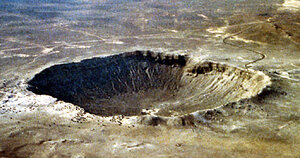 AFP PHOTO/HO/NASA
At the New York Times's Dot Earth blog, Andrew Revkin looks into an often-ignored potential natural disaster: meteor strikes. Monday marks the 100th anniversary of the Tunguska event, in which a meteor estimated to be as small as a few dozen yards across exploded over Siberia, creating a blast capable of destroying a large metropolitan area.
Gavin Schmidt at RealClimate dissects the media attention over forecasts that the North Pole could become ice-free for the first time this summer. Schmidt, a climate modeller at the NASA Goddard Institute for Space Studies, asks "[W]hy do stories about an geographically special, but climatically unimportant, single point traditionally associated with a christianized pagan gift-giving festival garner more attention than long term statistics concerning ill-defined regions of the planet where very few people live?"
---
Subscribe to Recharge
Get the Monitor stories you care about delivered to your inbox.