Pentagon to EPA: You and what army?
(Read article summary)
The Washington Post reports that the Pentagon is refusing orders from the Environmental Protection Agency to clean up three sites where it dumped chemicals that the EPA says have contaminated soil and drinking water and pose "imminent and substantial" dangers to public health.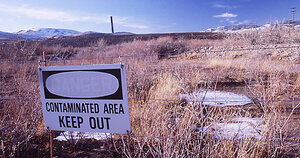 NEWSCOM/FILE
---
Subscribe to Recharge
Get the Monitor stories you care about delivered to your inbox.