Roundup: dirigibles, a greener shade of crimson, and a new eco-sharing site
(Read article summary)
A look at environment stories elsewhere on the Web.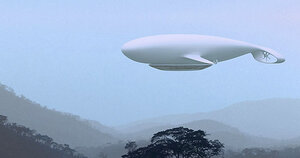 WENN/NEWSCOM
The New York Times writes about a renewed interest in airships, and about the dream of French architect Jean-Marie Massaud to build a 690-foot, whale-shaped dirigible with a luxury hotel attached. As fuel prices continue to soar and greenhouse emissions rules tighten, more and more countries are looking into lighter-than-air craft as an alternative to planes and trucks. With top speeds of around 100 miles per hour, the ability to carry only dozens of passengers, and the need for huge landing spaces, they have some distinct disadvantages compared with jet airliners. But it's hard not to be taken by their romantic appeal. Be sure not to miss the photo gallery.
Harvard University announced Tuesday that it plans to reduce its greenhouse gas emissions by 30 percent from 2006 levels by 2016, even as it undertakes a major expansion of its campus. "We have consciously set a high bar for ourselves," said Harvard president Drew Faust, "in view of the importance and urgency – as well as the difficulty – of the challenge." A report released last month [PDF] estimates that the reductions will cost an estimated $10 million to $20 million each year, a "substantial" portion of which will be recovered through reductions in the university's energy bill, which is now pushing $100 million annually. The report also says an additional $2 million to $4 million will be needed to purchase carbon offsets, and another $2 million will be needed for staff to support the project.
---