Global warming could lead to more kittens
(Read article summary)
Shelters across the country are reporting an increased intake of cats and kittens. Some experts blame climate change.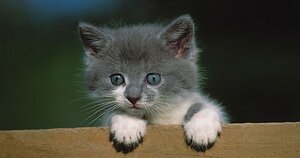 NEWSCOM
"Each year it seems to get worse and worse," said Christina Gin, an animal shelter volunteer in Hayward, Calif., to the Hayward Daily Review earlier this month.
She was talking about the shelter's surplus of kittens, a problem that animal shelters across the country face every summer. But lately, it seems that there have been more and more of the furry carnivores.
Ms. Gin blames global warming for the feline glut, and she's not alone. The Humane Society has observed that kitten season, which usually starts in March and April, has been starting earlier and lasting longer.
The Kansas City infoZine quotes Nancy Peterson, manager of the Humane Society's feral cat program, who explains how warmer weather sends female cats into heat: "The brain receives instructions to produce a hormone that basically initiates the heat cycle in a cat," said Ms Peterson, "and those instructions are affected by the length of day and usually the rising temperatures of spring."
The story quotes some dissenting voices, however, such as a veterinary professor at Iowa State University who argues that the cat's sexual cycle is based on the length of day, not the temperature.
---