San Francisco could require employers to help workers commute
(Read article summary)
And the employers actually don't seem to mind too much.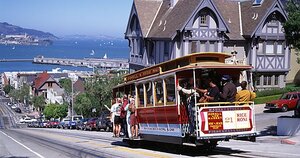 The San Francisco Chronicle reports on a proposal by city officials to require businesses with 20 or more employees to help their workers commute via public transit.
Surprisingly, the plan is meeting little opposition from businesses, who stand to save some money.
The proposal, put forth by Ross Mirkarimi, a member of the city's Board of Supervisors and a co-founder of California's Green Party, would require employers to take one of three options:
• Pay for workers' transit fares. Employers could opt to offer their workers free passes on public transit or reimbursement for vanpool expenses.
• Provide door-to-door shuttle buses to and from work.
• Set up pretax commuter accounts. Using an existing voluntary federal program, workers would be able to use up to $115 per month in pretax wages to purchase transit passes or vanpool rides. Under this plan, employees would save 40 percent on their commute costs, and businesses would save 9 percent on payroll taxes. Under the proposal, such accounts could not be used to pay for parking.
---