Are they really going to gut the Endangered Species Act?
(Read article summary)
The White House is proposing to let federal agencies decide for themselves whether construction projects could harm listed species.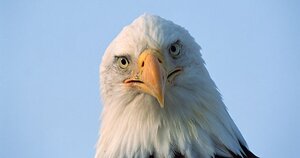 NEWSCOM
The U.S. Fish and Wildlife Service and the National Marine Fisheries Service announced Monday that they are proposing major changes to the Endangered Species Act, a move that critics say will dramatically weaken federal protection of threatened plants and animals.
The announcement came after the Associated Press obtained a draft proposal of the rule changes [PDF], which seek to bypass the review process for construction projects, such as highways, dams, and mines. Currently, under section 7 of the Endangered Species Act, federal agencies must consult with scientists at the Fish and Wildlife Service or the National Marine Fisheries Service to determine whether a project is likely to affect any of the 1,353 animal and plant species listed as endangered or threatened.
The draft rules, which do not need to be approved by Congress but are subject to a 30-day public-comment period, would let each agency decide for itself whether a project would harm listed species.
Additionally, the proposed rules would prohibit federal agencies from assessing the greenhouse gas emissions from construction projects.
---
Subscribe to Recharge
Get the Monitor stories you care about delivered to your inbox.