How much less can Americans drive?
(Read article summary)
At what point does our energy crisis become an infrastructure crisis?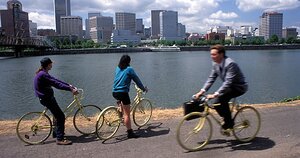 NEWSCOM
Back in May, when gas hit a then-record $3.73 a gallon, I wrote about how some reports were suggesting that Americans are cutting back on driving. It turns out that this phenomenon was more than a temporary blip: New data from the Department of Transportation reveals that driving slid for the eighth straight month in June.
According to the DOT, Americans drove 12.2 billion miles less in June than they did in June 2007, a drop of 4.7 percent. That's the largest monthly drop since the decline began in November.
A press release from the DOT says that, since November, Americans have driven 53.2 billion fewer miles than they did over the same period a year earlier, a drop that is more pronounced than the drop that occurred during the 1970s, a era marked by severe gas shortages. Rural travel has fallen 4 percent since late last year, while urban driving has fallen only 1.2 percent.
The biggest declines seem to occur in big states with wide open spaces. Driving was down 6.1 percent in Alaska, 6.2 percent in Kansas, 7 percent in Maine, 7.7 percent in Montana, 6.7 percent in Nevada, 6.9 percent in Washington, and 6.8 percent in Wyoming.
---