Four offshore-drilling myths
(Read article summary)
There's a lot of misinformation out there about offshore drilling. I hope this post will help clear the air.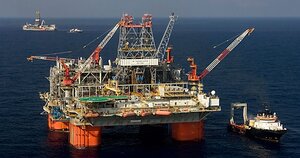 Brett Coomer/Houston Chronicle/Rapport Press/NEWSCOM
"A lie can travel halfway around the world," goes an old saying, "while the truth is still putting on its shoes."
This maxim is particularly true for hot-button political topics, and there is no hotter button right now than the debate over whether Congress should lift the 27-year-old ban on offshore drilling. I've read a lot of news reports and editorials about this issue, and I've seen a lot of misinformation – some of it implicit, but a lot of it outright falsehood, too. I hope this post will help clear the air a bit.
Myth #1: We know how much oil there is. Opponents of offshore drilling frequently cite a report by the Department of Energy saying that, according to the Interior Department's Minerals Management Service, there are "only" about 18 billion barrels of technically recoverable oil in the currently off-limits Pacific, Atlantic, and eastern Gulf regions. (This is different from the recent US Geological Survey report that estimated that there are 90 billion barrels in the Arctic Circle.) Extracting that oil from those regions, the report says, "would not have a significant impact on domestic crude oil and natural gas production or prices before 2030." As a Tuesday editorial in the Washington Post points out, the MMS arrived at those estimates using seismic equipment that is now outdated:
In the case of the Atlantic Ocean, the data were collected before Congress imposed a moratorium on offshore drilling in 1981. In 1987, the MMS estimated that there were 9 billion barrels of oil in the Gulf of Mexico. By 2006, after major advances in seismic technology and deepwater drilling techniques, the MMS resource estimate for that area had ballooned to 45 billion barrels. In short, there could be much more oil under the sea than previously known.
---