Newly built dream homes and harm's way
(Read article summary)
Watching Topical Storm Faye sweep through Florida, I'm reminded of HGTV's Dream Home 2008 grand prize.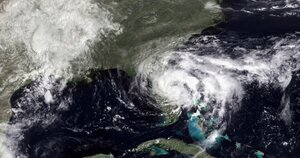 AFP/NOAA
Tropical Storm Faye and the Home and Garden channel may seem like strange bedfellows. But watching Faye hit the Florida Keys, drench the heart of the state, swing briefly out over the state's northeast coast, then hang a hard left and head west toward the Florida Panhandle, I'm reminded of the cable network's Dream Home 2008 grand prize. It speaks volumes about the challenges society faces if it hopes to reduce its vulnerability to natural hazards.
One February weekend, I walked by the television as HGTV made a pitch for its Dream Home 2008 sweepstakes. The dream spot? Islamorada, Fla. It's about halfway down the chain of coral islets that end in Key West. The prize was a tidy two-story house that faces the ocean — with landscaping that just dares a hurricane storm surge to come roaring up to the patio. (We'll save a discussion on the value of mangroves as marine surge protectors for another day.)
---
Subscribe to Recharge
Get the Monitor stories you care about delivered to your inbox.