Stepping back from the acidic abyss
(Read article summary)
A group of prominent marine scientists has presented its 'Honolulu Declaration on Ocean Acidification and Reef Management'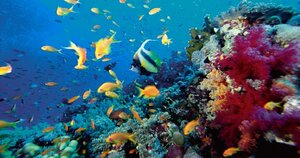 image100/Corbis
If you have to issue a declaration of some sort, Kona, on the big island of Hawaii, isn't a shabby place to do it. Especially if the topic involves coral reefs and ocean acidification.
The venue: The 20th meeting of the US Coral Reef Task Force, set up in 1988 to coordinate the nation's efforts to preserve these important marine habitats.  Today, a group of prominent marine scientists presented the task force with its "Honolulu Declaration on Ocean Acidification and Reef Management. " The four-page document (five if you count references) puts its main focus on what conservation managers can do now to try to ensure some level of resilience in their reef networks as oceans  acidify. In many ways, it's the latter that distinguishes this from other declarations of angst over acidification.
---
Subscribe to Recharge
Get the Monitor stories you care about delivered to your inbox.