The man who jams with whales
(Read article summary)
Using underwater speakers and microphones, musician and philosopher David Rothenberg collaborates with humpbacks and other marine life.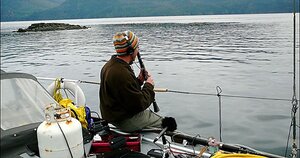 Photo courtesy David Rothenberg
Jazz musician David Rothenberg is perhaps unique in his choice of musical collaborators. They sing a capella, their voices travel for hundreds of miles, and each musician is roughly the size of a school bus.
Using underwater speakers and microphones, Rothenberg intertwines the rhythmic rumbling, clicking, booming, honking, whooping, howling vocalizations of the humpback whale with his own improvisations on clarinet and synthesizer, creating free-form jams that give a whole new meaning to the word "fusion."
In his latest book, "Thousand Mile Song," which includes a CD of his improvisations with humpbacks in Hawaii, as well as belugas in Russia and orcas in Canada, Rothenberg says his attempts to musically connect with humpbacks "could be the ultimate interspecies experiment."
Humpback whales are perhaps the most acoustically sophisticated creatures on earth. Their songs, intricate layers of repeated notes, phrases, and melodies that can last for hours at a time, seem to contain their own syntax, and yet are nothing like human language.
Nobody really knows why they sing. Some scientists believe that the songs are for mating – only the males sing – but there is little evidence that the females actually pay attention to their vocalizations. Others think that whales use the songs to help each other navigate the deep. But this also has yet to be proven.
---