Portland, Ore., tops sustainable cities list
(Read article summary)
Using criteria in 16 categories, SustainLane ranks Portland as the most environmentally friendly of the 50 largest US cities.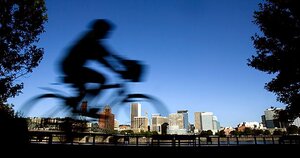 AP Photo/Don Ryan/FILE
What's the greenest American city? According to the latest annual report from SustainLane, it's Portland, Ore.
Using criteria in 16 categories, including air and water quality, traffic congestion, access to public transportation, land use, green business activity, and environmental policies, SustainLane, an Internet company that focuses on health and environmental issues, ranks Portland as the greenest of the 50 largest US cities. The city, which was once known as "Stumptown" because of the way its land was quickly logged,  has ranked first since the company began compiling the lists in 2005.
Here are the top 10 cities, with their 2006 rankings in parentheses:
1) Portland, Ore. (1)
2) San Francisco (2)
3) Seattle (3)
4) Chicago (4)
5) New York (6)
6) Boston (7)
7) Minneapolis (10)
8) Philadelphia (8)
9) Oakland, Calif. (5)
10) Baltimore (11)
And at the bottom of the list:
---
Subscribe to Recharge
Get the Monitor stories you care about delivered to your inbox.