Study: Privatization could avert fisheries' collapse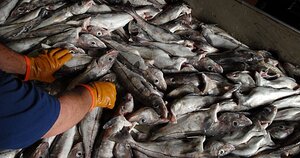 Mary Knox Merrill / The Christian Science Monitor / FILE
Replacing the fishing season with a quota system could prevent fisheries from being depleted, a new study has found.
Writing in last week's issue of the journal Science, a trio of researchers has found that the world's handful of fisheries with a "catch share" system, in which individual fishermen own long-term rights to a percentage of a predetermined catch limit, are half as likely to have collapsed than traditionally managed fisheries, in which fishermen try to catch as many fish as possible during a fishing season.
The study's authors – two from the University of California at Santa Barbara and one from the University of Hawaii – surveyed 121 fisheries with catch-share systems and compared them with catch statistics from 11,135 fisheries around the globe from 1950 to 2003. Their conclusion: "Implementation of catch shares halts, and even reverses, the global trend toward widespread collapse. Institutional change has the potential for greatly altering the future of global fisheries."
It can't happen soon enough. As the Monitor reported in June, one-quarter of the world's fish stocks are overfished, and another half are fished to full capacity. One study found that, if current trends continue, the world will completely run out of seafood by midcentury.
---