Five great green TED talks
(Read article summary)
The Technology, Entertainment, and Design conference announced its 2009 prizewinners Thursday, which gives me an excuse to link to five of my favorite environmentally themed TED talks.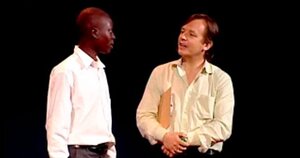 Screenshot from TED.com
The Technology, Engineering Entertainment, and Design, or TED, conference announced its 2009 prizewinners Thursday. Of interest to greens is that one of the winners is oceanographer Sylvia Earle, the former chief scientist of the National Oceanographic and Atmospheric Administration and the current explorer-in-residence at the National Geographic Society. [Note: The original version got the name of the conference wrong.]
Ms. Earle, who for the past four decades has focused on deep ocean exploration, has been a tireless advocate for marine life. Our oceans are experiencing unprecedented strain from overfishing, industrial pollution, and acidification. TED's award  –  $100,000 and "One Wish to Change the World" that Earle can pitch to the movers and shakers who attend the group's annual conference in February – couldn't be more timely.I'm looking forward to watching Earle's speech online next year.
In the meantime, I'll link you to five of my favorite green TED talks. They are, in no particular order:
---