Environment versus economy: a false choice?
(Read article summary)
Most Americans believe that environmental protection and the economy go hand-in-hand. So why do polls assume that they are incompatible?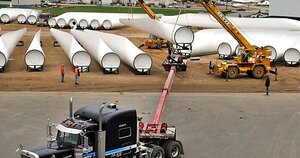 GLEN STUBBE / NEWSCOM
Watching this country's quadrennial ritual of legitimizing its ruling class got me wondering: As millions lined up Tuesday to check boxes, punch holes, and tap screens in the hopes that the next iteration of the US government would better reflect their values, how much thought did they give to environmental problems?
As it happens, the advocacy group Environment America recently emailed me a 52-slide PowerPoint presentation that tries to answer that very question. Assembled by pollster and Democratic political strategist Celinda Lake, the slide show offers the results of dozens of public opinion surveys from different polling organizations, a glimpse of America's environmental conscience.
There are some broad themes – most Americans believe that the quality of the natural environment is only fair or poor, and most take candidates' environmental policies into account when voting. But when you take a closer look, the results become largely incoherent. According to the slide show, only 46 percent of Americans believe that human activity is responsible for global warming, but 71 percent have taken steps to reduce their carbon footprint. Some 13 percent say that environmental problems are the most significant threat to the US and its allies, but only 5 percent say that these should be the top priorities of the president and Congress. Three-fourths support a five-year moratorium on new coal plants and increased investment in clean energy, but two-thirds believe that the US should promote greater use of coal-fired electricity. Judging by this collection of surveys, we are a nation of environmental Sybils.
---