Is General Motors too big to fail, or just too big?
(Read article summary)
How did we become so dependent on a single corporation?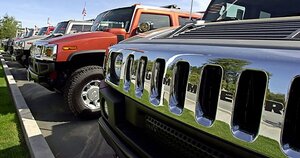 AP Photo / Paul Sakuma / FILE
"What's good for General Motors," goes the old saying, "is good for the country." If that's true, then so is the inverse: If the 100-year-old automaker sinks, it will bring a substantial portion of the US economy down with it.
As Congress debates an industry bailout, dire predictions are echoing through the Capitol: A GM collapse would almost instantly add tens of thousands of Americans to the unemployment rolls. Auto dealerships across the country would be at risk. A host of suppliers – from aluminum smelters to vinyl extruders to computer-chip etchers – would lose a key customer. According to one leading economist, a GM bankruptcy could send the unemployment rate as high as 9.5 percent, up from a year high of 6.5 percent, and produce a severe recession.
And that's just in the United States, one of the 35 countries that manufactures GM cars and trucks. The company's woes threaten livelihoods of employees around the globe, from Ecuador to Poland to Kenya to Uzbekistan. The potential fallout is so great that even Japan's finance minister says he supports US government intervention to prop up the ailing company.
---