Light pollution harms not just stargazers
(Read article summary)
It throws wildlife out of whack and diminishes public safety.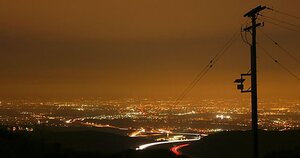 Ryan Hodgson-Rigsbee / Orange County Register / KRT / FILE
For students of astronomy, Sunday and Monday night is the equivalent of a World Cup Final, a new Mac operating system, and a Zeppelin reunion show all rolled into one.
That's because, as Horizons guest blogger Pete Spotts noted in his post Sunday, Jupiter, Venus, and the moon will gather to direct a lopsided frown at North America, an arrangement that won't happen again for another 44 years.
But even on a clear night, many would-be astronomers are missing out on this rare celestial scowl, instead being treated to a dull haze punctuated by only the nearest or brightest objects, Jupiter not being one of them. So pervasive is this murky veil that the National Park Service estimates that two-thirds of Americans cannot see the Milky Way from their homes. Had Carl Sagan spent his whole life in a contemporary US city, he'd no doubt have marveled at the dozens and dozens of lights dotting the firmament.
The cause of this stellar pall? Carelessly designed streetlamp fixtures, signs, and office lighting controls that pointlessly illuminate the sky, blocking our view of the universe.
Harmful to wildlife, harmful to humans
---