Google Earth maps the oceans
(Read article summary)
A chance meeting between a Google exec and a famed oceanographer prompted the company to map the remaining 70 percent of the planet's surface.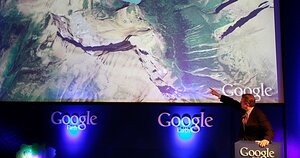 AP Photo/Jeff Chiu
It began three years ago with a chance meeting in Spain between the legendary oceanographer Sylvia Earle and John Hanke, the director of Google Earth, the company's free virtual globe software.
"John, when are you going to finish it?" asked Ms. Earle, "You should call Google Earth 'Google Dirt.'"
After that, Mr. Hanke and his team got to work mapping the remaining 70 percent of the planet's surface. The result: Google Earth 5.0, which became available on Monday.
On the Official Google Blog, Hanke writes:
We have always had a big blue expanse and some low-resolution shading to suggest depth. But starting today we have a much more detailed bathymetric map (the ocean floor), so you can actually drop below the surface and explore the nooks and crannies of the seafloor in 3D. While you're there you can explore thousands of data points including videos and images of ocean life, details on the best surf spots, logs of real ocean expeditions, and much more.
---