US considers pika protection due to warming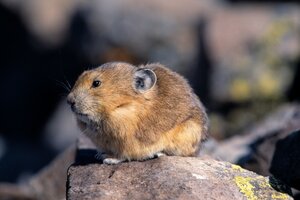 NEWSCOM
If you were to cross a rabbit with a hamster, make it very sensitive to heat, and deposit it on mountains throughout the western United States, you'd be wasting your time because it looks as though somebody has already done it.
The American pika, a small furry mammal in the same order as rabbits and hares, makes its home at high elevations where it enjoys the cold. Pikas that are exposed to temperatures over 80 degrees Fahrenheit tend to overheat and die.
Which is exactly what has been happening, scientists say. The San Francisco Chronicle cites reports that the animals are vanishing as temperatures rise:
Surveys in the Great Basin show that more than one-third of the populations are disappearing, according to Erik Beever, a biologist with the U.S. Geological Survey. Out of 25 former populations found decades ago, only 16 could be located in a recent search. California populations that live at the lower elevations already are suffering from rising temperatures, scientists say. ...
"Pikas are intolerant to higher temperatures, and the scientists are finding that the lower-elevation populations are disappearing," said Shaye Wolf, a biologist on staff of the Center for Biological Diversity.
---