Clean dishes vs. reduced water pollution
(Read article summary)
Dishwasher detergent causes environmental conundrum for some in Washington State.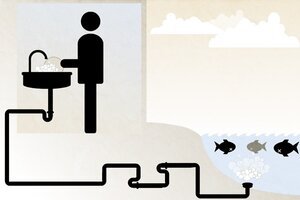 If you had a choice between eating off dirty dishes or helping protect area waterways, which would you choose? In Spokane, Wash.,  where a state ban on phosphates in dishwasher detergent is being phased in, some residents are deciding in favor of squeaky-clean plates and glasses.
It turns out that phosphate-free dishwasher detergent -- mandated by Washington State lawmakers for 2010 and beyond, and also coming to Maryland, Pennsylvania, Virginia, Michigan, Vermont, Minnesota, Illinois, Massachusetts, and New York -- doesn't do a great job at cleaning dishes. Or, at least, the ones currently on the market don't.
---