A new map for a breathtaking ocean preserve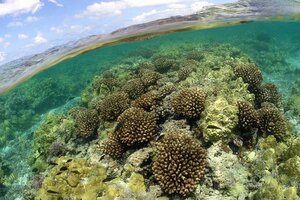 NOAA
If you're trying to understand your surroundings, there's nothing like having a decent map to guide you.
It's true for backpackers. It's true for astronomers. It's true for people trying to pinpoint earthquake hazards. And it's true for managers aiming to preserve ecosystems cradled in the Papahānaumokuākea Marine National Monument,  along the Northwest Hawaiian Islands. It's the largest single marine reserve on the planet, covering nearly 140,000 square miles.
Now, scientists have drawn the first map identifying areas where humans are leaving their largest foot/flipper-prints on the monument's "pristine" reefs.  The work appears in the current issue of the journal Coral Reefs. You can download a copy of their work here in PDF form.
The aim is to identify the most vulnerable portions of the marine monument and the mix of threats it faces from a range of human activities. Armed with that information, monument managers presumably will be in a better position to tailor their rules and regs in ways that blunt the most significant threats to any one portion of the monument.
"Our maps of cumulative human impacts are a powerful tool," notes Kimberly Selkoe, a scientists with Hawaii Institute of Marine Biology at the University of Hawaii and the lead author of the research paper describing the effort. "The maps can aid in zoning uses of the oceans in an informed way."
President Bush announced the monument's formation on June 15, 2006. It was the first of two major ocean conservation efforts his administration adopted during its final two years. You can read more about these efforts here, here, and here.
---