Are we loving the Galápagos Islands to death?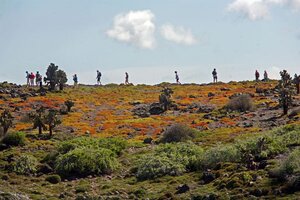 Melanie Stetson Freeman
Although many online readers don't realize it, when the Monitor ceased daily print publication, it didn't go online exclusively. Our publications now include a weekly print paper that looks much like a news magazine. In the April 19 edition, arriving in subscribers' mailboxes this week, is an important cover story on the Galápagos Islands.
Written by Sara Miller Llana and Moises Velasquez-Manoff and richly photographed by Melanie Stetson Freeman, it focuses on conservation efforts being undertaken to restore the ecosystem of one of the most biologically unique places on Earth.
For a sneak preview, see Melanie's video with this post, "Are we loving the Galápagos to death?"
As noted in the video and the article, tourism and immigration have both had a negative impact on the archipelago's environment. I asked Melanie to tell her about her personal experience in the Galápagos:
This wasn't her first trip, she says. "I had been there 18 years earlier for a story for The CSM on whether tourism was helping or hurting the islands. We concluded then that it was helping – but that it couldn't grow too much or it would start to hurt the place. Also, people were moving over from the mainland to make money off tourism -- and that could quickly become a problem.
"I don't know the numbers from back then," she says, "but now there are 170,000 tourists yearly, and I can say that it saddened me to see how changed it was – fewer animals, a lot more evidence of tourists being on the islands, a way bigger city.
"I shot still photos to accompany the article and video for online. I decided to do my multimedia on the human presence on the islands – both tourist and resident – because people don't seem to realize how many visit – and that people actually live on the islands. There are 24,000 in the biggest city, which seems to shock people. Most people think no one lives there.
---