Will roadless national forests soon be paved and logged?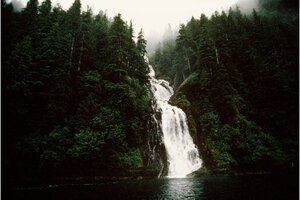 Melanie Stetson Freeman/The Christian Science Monitor/file
Is the US government going to soon allow 90,000 acres of currently undeveloped national forest to be paved with roads and then logged? That's what the environmental advocacy group Environment America charges.
Here's some background on the issue:
In early 2001, the Roadless Area Conservation Rule became law. Its purpose was to prohibit "road construction, road reconstruction, and timber harvesting in inventoried roadless areas on National Forest System lands [58.5 million acres]."
There were several court challenges to this, and in 2005, the Forest Service instituted a state petitioning process, which conservation groups considered a weakening of the protections in the 2001 regulation. (Timber, drilling, and mining interests, for instance, could have great influence on a state level to impact forests adversely.) The rule-changing and court battles left the national forests vulnerable, say environmental groups.
Forests may fall under the ax beginning this spring
Although only seven miles of roads have been built in roadless areas since the 2001 law took effect, many logging projects have slowly been moving forward. And some commercial logging of previously undeveloped forests in Alaska, Colorado, Idaho, and Oregon could start this spring, says "Quietly Paving Paradise," a report just released by Environment America.
---