Americans don't agree about global warming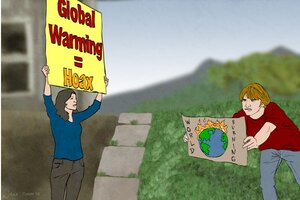 Jacob Turcotte
As I looked over the news release from the Massachusetts Institute of Technology, detailing a new study that global warming is going to be twice as bad as previously predicted, I knew that anywhere from 30 to 49 percent of people reading or hearing the news were going to be doubtful about some or all of it.
The doubt won't surprise any regular reader of this blog – where visitors often vigorously debate this issue. But how could I be reasonably confident of those specific numbers of doubters?
Because of a survey last fall from Yale and George Mason universities. It asked more than 2,000 Americans about their beliefs in global warming. Here's a summary of what they found. (You can read the whole thing by clicking here.)
Fifty-one percent believe global warming is happening and is a serious problem:
– Eighteen percent of those surveyed "strongly support a variety of climate change policies, such as regulating CO2 as a pollutant," says the survey's summary.
– The other 33 percent aren't taking many personal steps to save energy or reduce their carbon footprint, but do pay attention in purchasing decisions to which companies are taking steps to help slow climate change.
Both of these groups are more likely to identify themselves with the Democratic Party or as independents than as Republicans. They're likely to trust climate information from scientists, environmental organizations, Al Gore, and President Obama.
---