Study: China's Olympic effort to curb smog had little effect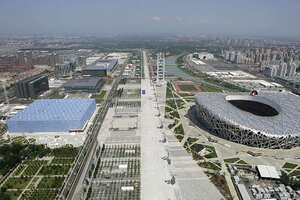 Greg Baker/AP/File
Take a deep breath, click your heels three times, and repeat after me: "There's no place for smog. There's no place for smog. There's no place...."
Unfortunately, that's apparently about as effective a pollution-control technique as the measures China implemented for the 2008 Summer Olympics, if a new study is any indication. The Chinese government made Herculean efforts to ensure that the air quality in Beijing during the 2008 summer Games would meet World Health Organization standards. Colleague Peter Ford wrote about those efforts at the time.
Beijing's effort wasn't fruitless. The study notes that during the last three months of 2008, concentrations of the largest of the two particles types researchers measured – particles 10 microns across – dropped by 9 to 27 percent compared with the same period in 2007. The team attributes the decline to tighter controls on sources of pollution and perhaps the economic downturn.
But for all the hard work, Beijing's air quality violated WHO guidelines from 81 to 100 percent of the time, depending on which of two pollution-particle sizes you choose (either size is unpleasant).
---