Can large wind farms tweak weather downwind?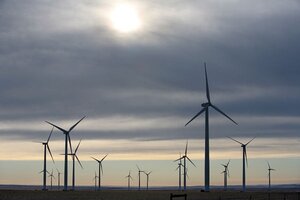 Melanie Stetson Freeman/Staff/File
A battle over a wind farm in our backyard – off the island of Martha's Vineyard – has shown that folks can raise a host of objections over unintended consequences, real or imagined.
They've included hazards to boaters, hazards to endangered migratory birds, hazards to aircraft flying between the Vineyard and the mainland, and of course, hazards to the property value of big-buck homes with scenic views of Nantucket Sound. Oh yes, one can't forget the installation of transmission lines to link the turbines to the utility grid. And that's just for one relatively small wind farm.
Now researchers are looking at another potential "unintended consequence" – the likelihood that collectively, groups of large wind farms in one region could alter weather patterns downwind of the turbines in another region.
So far, evidence suggests that large collections of wind farms could have small but measurable effects on atmospheric circulation patterns, cloudiness, and temperatures over substantial distances.
"If you have a couple of wind farms over a 10-kilometer patch in the Midwest, that's not going to make some kind of global impact on the weather," says Daniel Kirk-Davidoff, an atmospheric scientist at the University of Maryland, College Park, who works on the issue. But if the whole Midwest "is somewhat roughened over a large area, then you could imagine having a large-scale impact on the atmosphere."
---