Scientists warn of emerging form of unregulated whaling in Asia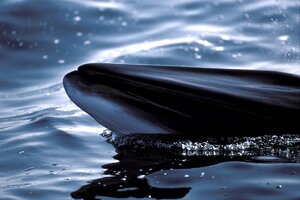 AP Photo/IFAW/File
It's tough being a whale these days.
The International Whaling Commission has just wrapped up its annual meeting in Portugal with a whaling ban still intact, but with fissures deepening between the save-the-whales crowd and countries such as Japan, which wants to see commercial whaling reinstated, at least on a limited basis.
It's enough to prompt the commission's new chairman to suggest that the 53-year-old organization may need to rethink its purpose. Cristian Maquieira, the new chairman, told the Associated Press:
"We have to re-establish a consensus on what the IWC is and should do, and there are at least two contradictory perceptions to answer that question."
And along comes a new study suggesting that Japan's fishing operations are taking far more minke whales a year as by-catch than the Japanese government is officially reporting. Based on DNA samples taken from commercially sold whale meat, a team from Oregon State University and the University of California at Irvine estimate that by-catch takes in 150 whales a year on average -- about the same number the Japanese government officially acknowledges taking in its own scientific whaling program.
Researchers suspect the high numbers of minke by-catch may be more than accidental. Japan and South Korea are the only two IWC members that allow whales snagged as by-catch to be sold commercially.
---