Greening the Sears Tower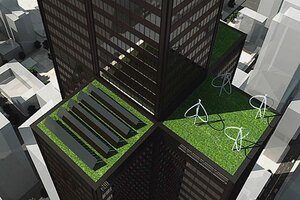 Adrian Smith & Gordon Gill Architecture, HO/AP
Chicago's Sears Tower – which, from 1974 to 1998, stood as the world's tallest building – is getting a green makeover.
Wind turbines, a solar water heater, and the world's highest green roof are just a few of the proposed improvements that the building's owners and architects announced Wednesday for the 110-story, 1,450-foot skyscraper .
The $350 million, five-year project also includes plans to modernize the tower's 104 elevators, improve the insulation of the exterior walls, upgrade the plumbing, and even add more bike racks for commuters. The goal is to reduce the building's electricity consumption by 80 percent and save 24 million gallons of water each year.
The project will create 3,600 jobs, building officials said. The New York Times reports that money for the project will be raised from "private equity investment, grants, debt financing, and government funds."
Additionally, the owners also are planning to build a 50-story luxury hotel next door, which would be powered entirely by energy generated by the skyscraper, whose name is slated to be changed to the Willis Tower this summer.
To many, the concept of a "green skyscraper" may seem like an oxymoron. But it turns out that these icons of industrialization, to the extent that they increase population density, tend to be far more energy efficient than suburban office parks.
---