Community-based fishery management and Somali pirates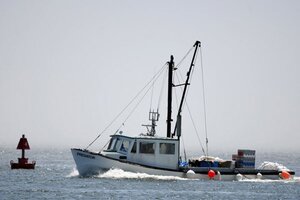 Robert F. Bukaty/AP
A question: What do Somali pirates have to do with community-based fishery management?
Before I answer that, the news:
Last week, the New England Fishery Management Council approved 19 fishermen-run, community-based sectors –  a fishing cooperative-based catch share system, explains Julie Wormser of the Environmental Defense Fund – that will take effect in May 2010.
In my last post, I talked about the importance of sustainable fishery management. Basically, catch shares give fishermen a kind of ownership share in the fish stock – a percentage of a year's harvest. If the fish do well, they get more fish. If not, they get fewer. That theoretically is an incentive for stewardship.
What about community-based management? Communities living next to and using a resource will best manage it, the thinking goes. They have the most to lose from bad management, and the most to gain from good management.
There are some holes in this argument, of course. Local interests have, in fact, had a voice at the New England Fishery Management Council for a long time, and it didn't seem to stop overfishing.
---