Beef producers, the next cutting edge for rain forest conservation?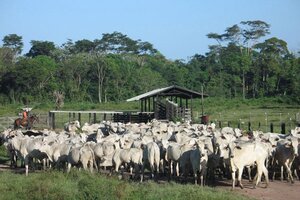 NEWSCOM/file
It seems very counterintuitive. We've all been told the adverse effects of beef production on the environment. ("A kilogram of beef is responsible for more greenhouse gas emissions and other pollution than driving for 3 hours while leaving all the lights on back home," noted New Scientist in a post titled "Beef is murder on the environment", which reported on a study about beef and global warming.)
And figures show how much rain forest is being lost annually. A 2008 survey, reported in E Magazine, noted that deforestation had claimed one-fifth of the 1.6 million square miles that make up Brazil's Amazon basin.
What that means to the world, the BBC reported today: "In Brazil deforestation is responsible for more than half of carbon emissions, while across the world it is blamed for up to 20 percent of the gases that are said to be heating the planet."
Yet, David Cleary -- director of conservation strategies in South America for The Nature Conservancy -- calls a leading Brazilian beef company "the cutting edge of tropical conservation." At first glance, that seems pretty surprising from a conservationist who isn't naive and has lived in Brazil for 15 years.
---