Attack of the climate spam?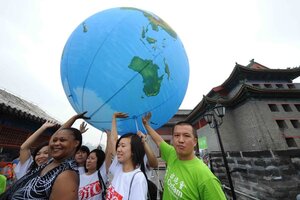 NEWSCOM
Yesterday, Monitor environment blogger Eoin O'Carroll posted on forgeries by coal industry lobbyists. There's a related phenomenon observable on discussion boards hosted by news organizations across the country. You might call it "climate spam."
As any regular visitor to the environment section of the Monitor website may note, stories about climate change and climate science tend to garner many comments from both sides of the "climate change is" or "isn't happening" spectrum. Some are vituperative, some thoughtful, some informative, some humorous.
And some are, for lack of a better description, strangely aloof. They stand out for not directly addressing the topic at hand.
Aware of these comments for some time, I've conducted a very informal and hardly scientifically rigorous experiment. I began Googling, between quotation marks, long sentences from these somewhat generic-seeming comments.
Sure enough, I found several instances where the same comments appear verbatim on other news organizations' websites.
One such comment begins:
The root of the climate change problem? We're letting the United Nations decide what is best for America. And they're failing us. The premise that CO2 drives global warming is based on United Nations' climate reports that are tainted by politics and an agenda.
---