Of farming, methane bubbles, and Antarctic glaciers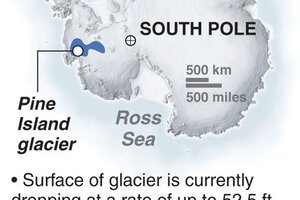 Climate-related studies continued arriving apace this week.
Writing in the journal Geophysical Research Letters, scientists warn that the Pine Island Glacier in West Antarctica is shedding ice four times faster than a decade ago. Scientists have been tracking the glacier, roughly twice the size of Scotland, with satellites for the past 15 years.
At this rate, it will mostly disappear within a century — six times faster than previous estimates. [See Newscom graphic at right.) And if it melts, seas will rise nearly double what the Intergovernmental Panel on Climate Change predicted for this century. (Depending on different CO2 emission scenarios, the IPCC's estimates for sea level rise range between 7.2 and 23.6 inches by century's end.)
Earlier this year, NASA's Robert Bindschadler, another glacier expert, told Yale's environment360 magazine that the Pine Island Glacier now flowed into the sea at a rate of 1 foot per hour, 50 percent faster than five years ago.
---