Could Hurricane Jimena put out California's wildfires?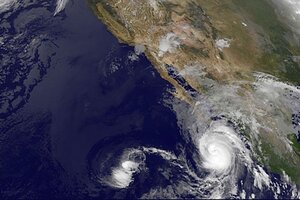 NOAA-NASA GOES Project/AP
Hurricane Jimena, with its 135 mile-per-hour winds, is barreling toward the Mexican peninsula of Baja California, and will likely head north after it makes landfall. Meanwhile, wildfires are raging east of Los Angeles, threatening thousands of homes. Is there a chance the hurricane could put out the fires?
Maybe, but probably not. Jimena is unlikely to strike the area of the wildfires. As the Associated Press notes, the storm is heading toward Arizona and New Mexico, well away from Los Angeles.
Still, the rain from Jimena might help a little, as the region has been abnormally dry this year. "There is a chance that there could be some humidity that could help with the firefighting," John Heil, a spokesman for the US Forest Service, Pacific Southwest Region, told the Bright Green Blog over the phone.
---