Will environmental threats result in new world cooperation?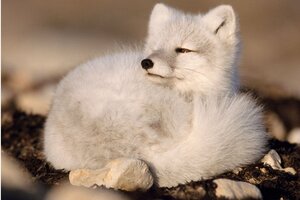 NEWSCOM
A study reported last week in the journal Science detailed dramatic ecosystem changes in the rapidly warming Arctic.
The Arctic has warmed by 1 degree C over the past 150 years, more than double the global mean temperature increase of 0.4 degrees C. In the past three decades, summer sea ice has decreased by 45,000 square kilometers per year (17,400 square miles).
And various species that need ice are showing the strain. The authors note a decline in Pacific walruses, hooded seals, and narwhals, among others. Spring rains arrive earlier than they once did. The rain melts the snow earlier, causing lairs of polar bears and ringed seals to collapse. Both species, say the authors, lose many pups in this fashion to the earlier spring rains.
More southerly species, meanwhile, are moving in. The red fox now lives in territory formerly occupied exclusively by the Arctic fox. And a winter moth has extended its range northward as well.
Some populations are benefiting from the changing weather: In Norway's Svalbard Archipelago, nonmigratory reindeer contend with less snow in the winter and more plants during the summer. That population is growing.
But in Greenland, migratory caribou are finding themselves out of sync with the natural cycles. Spring comes earlier and the caribou now arrive, calves in tow, late — after the most nutritious growth has already occurred. That population is declining.
---