US national parks endangered by climate change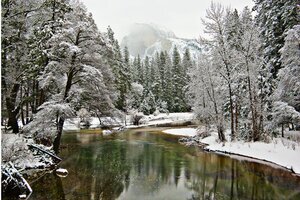 NEWSCOM
On Thursday, two environmental groups pointed to 25 jewels of the National Park System as examples of how climate change poses an immediate threat to America's recreational, historical, and scenic gems.
In a report titled "National Parks in Peril," the Natural Resources Defense Council (NDRC) and the Rocky Mountain Climate Organization say that some national parks may simply disappear in part or whole (due to sea level rise) if the emissions of greenhouse gases are not reduced significantly in future years.
Already, glaciers are expected to disappear from Glacier National Park within 15 years. Saguaro National Park may lose its saguaro cactuses. Grizzly bears may lose one of their most important food sources. The list of dangers prompted by climate change goes on and on.
"Global warming is threatening our parks now," says Theo Spencer, senior advocate for the Climate Center at the NDRC. "This is not [just] a future threat."
"We have to protect our special places," Mr. Spencer added.
---