Marijuana growers worsening California drought
(Read article summary)
Officials in California's drought-plagued Mendocino County have noted that large-scale marijuana plots have drained rivers and streams.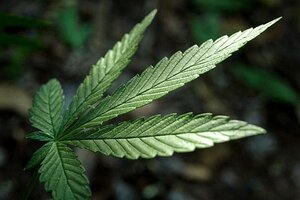 NEWSCOM
Large marijuana plots hidden deep in California's public lands have illegally diverted hundreds of millions of gallons of water, compounding shortages caused by the state's ongoing drought.
Public officials in Mendocino County, a region on California's north coast known for its lush redwood forests and potent cannabis, have witnessed rivers and creeks drained by the large-scale drug operations.
"They're using a whole lot of water." said Lt. Rusty Noe of the Mendocino County sheriff's office in a telephone interview with the Bright Green Blog.
Lt. Noe noted that police have seized more than 500,000 pot plants this season in Mendocino County alone. Each plant requires about one gallon of water per day. California is entering the fourth year of a severe drought, with residents in some areas facing the first mandatory water restrictions in two decades and farms laying off thousands of workers.
"It's really affecting our water supply," said Noe of the illicit growing sites.
Noe also cited other environmental damage caused by the plantations, including the dumping of toxic chemicals (a subject we covered a year ago) and erosion of soil and underbrush."These camps are just unbelievable," said Noe, who noted that the problem is getting steadily worse each year.
---