Efficiency can reduce water shortages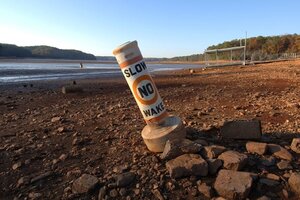 NEWSCOM/file
In the winter of 2005-06, a drought began in the Southeastern US. Over the following two years, the region experienced severe water shortages. Lawns went brown, streambeds ran dry, and lakes and reservoirs fell to record lows.
By fall of 2007, Georgia Gov. Sonny Perdue had declared a state of emergency for 85 Georgia counties.
Was the drought, which also seemed to extend laterally to the Southwest, the result of human-induced climate change?
A new  Columbia University study concludes that, in this case, climate change wasn't to blame. In fact, historically speaking, the drought wasn't even among the worst of the dry spells that periodically grip the region — the most recent in 1998-2002.
Rather, water shortages in the region — at the height of the drought, Atlanta's main reservoir dropped by over 14 feet — stemmed directly from increased demand on water. And the surging demand was driven by the rapid population growth of recent decades.
An article on Columbia University's Earth Institute website paints the picture by numbers:
In 1990, Georgia, which uses a quarter of the region's water, had 6.5 million people. By 2007, there were 9.5 million — up almost 50 percent in 17 years. The population is still ascending, driven largely by migration. However, little has been done to increase water storage or reduce consumption. There has been increased sewage discharge near water supplies, and vast tracts of land have been covered with impermeable roofs, roads and parking lots, which drain rainfall away rapidly instead of storing it.
---