An underwater meeting considers climate change
(Read article summary)
Maldives holds cabinet meeting underwater to make point on sea rise caused by global warming.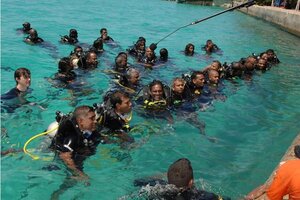 REPUBLIC OF MALDIVES/MINISTRY OF INFORMATION/NEWSCOM
Earlier this week, British Prime Minister Gordon Brown warned that Earth faces a climate "catastrophe" if greenhouse gas emissions aren't curbed soon. His remarks, made at the Major Economies Forum in London, came in anticipation of the UN meeting on climate in Copenhagen this December.
Nations must cut emissions substantially by 2020 in order to avoid economic meltdowns of the sort outlined in the Stern Report, Brown said. He also urged world leaders, many of whom don't plan to attend the UN  meeting, to show up.
The Associated Press, via The New York Times, reports:
''There are now fewer than 50 days to set the course of the next few decades,'' Brown said. ''We cannot afford to fail. If we fail now, we will pay a heavy price ... If we falter, the Earth will itself be at risk.''
Brown's remarks came on the heels of what may be the world's first cabinet meeting held entirely under water.
Late last week, government officials of the Maldives, an archipelago in the Indian Ocean, met under 5 meters (16 feet) of water to sign a document calling on all nations to reduce carbon emissions.
Decked out in scuba gear and accompanied by scuba-diving military personnel and dive instructors — members of the media snorkeled at the surface — the officials spent half an hour at a desk on the floor of a blue-green lagoon. The stunt was meant to bring attention to the islands' plight. With an average altitude of 7 feet above sea level, the Maldives have much to lose if sea levels rise due to global warming.
---