Has global cooling begun?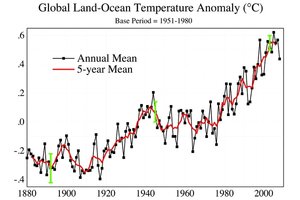 NASA-GISS
Yikes! On Sunday, Oct. 18, the New England Patriots were playing at home, in Foxboro, Mass., in a snowstorm that made it look more like a January game! Global warming must be over!
So many people wish that global warming would just go away. But sorry. It ain't happenin'. The atmosphere, if it could talk, is refusing to say: Uncle! At least to those wishing the issue would disappear.
The latest deuce in the global-cooling house of cards came recently via the BBC. One of The Monitor's reporters recapped it here. What climate data actually has to say about the issue appears here and here.
But if you want to save a mouse click or two, here's the upshot: The most that can be said is that natural variability may well have been strong enough to slow for the past 11 years any signal from human-induced warming.
---