Could water scarcity cause international conflict?
(Read article summary)
Some have predicted that conflicts over water scarcity are inevitable, but what does the record show?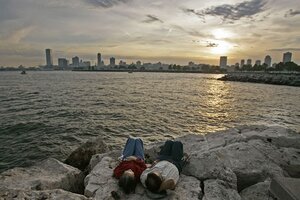 NEWSCOM
In reporting a recent story on a fight over water between residents of a small Colorado town and Nestlé Waters North America, a bottled water company, I learned much about water scarcity around the world, and the sense — also growing — that shortages of water could spark much future conflict.
In recent years, there's been a proliferation of books on the world's present and future water woes, from Maude Barlow's Blue Covenant to Robert Glennon's Unquenchable.
Many, including the authors mentioned above, argue that water must be viewed as a human right, not solely as a market commodity.
That's been the United Nations' position for years – not least because a lack of access to clean water constitutes a huge health problem in much of the developing world. About 1 billion people don't have potable water.
Another reason: water scarcity's potentially destabilizing effects. Many view the conflict in Darfur, for example, as partly motivated by a growing population and a shrinking supply of water.
---