Will talking change anyone's mind about climate change?
(Read article summary)
A new guide gives advice for talking with people who don't accept climate change, in hopes of getting them to change their minds.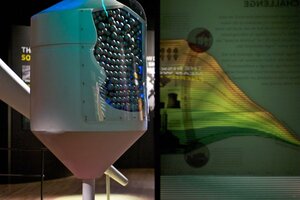 NEWSCOM
On Wednesday, Columbia University's Center for Research on Environmental Decisions released a guide titled "The Psychology of Climate Change Communication."
Freely available online [pdf], the manual endeavors to describe the various biases and barriers that lurk in the minds of the general public, and that, as the authors see it, confound an accurate comprehension of climate science and its ramifications.
In concept, at least, the manual's arrival is timely.
In case you missed it, a poll conducted by the Pew Research Center for the People & the Press last month found that the number of people who think there's solid evidence of human-induced climate change has declined dramatically in the past few years.
Fifty-seven percent of respondents now believe it's happening, down from 77 percent in 2006.
The guide has eight chapters:
1.  Know Your Audience.
2.  Get your Audience's Reaction.
3.  Translate Scientific Data Into Concrete Experience.
4.  Beware the Overuse of Emotional Appeals.
5.  Address Scientific and Climate Uncertainties.
6.  Tap Into Social Identities and Affiliations.
7.  Encourage Group Participation.
8.  Make Behavior Changes Easier.
Following are a few tidbits that caught this reporter's eye.
---