Three good green reads – futuristic cars, solar power from space, and wind power from on high
(Read article summary)
Read all about green, futuristic ideas for cars, solar power from space, and high-altitude wind power.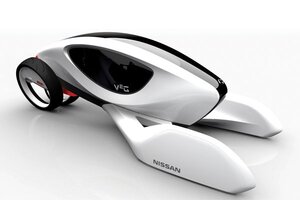 Photo courtesy of the LA Auto Show.
Futurists have been promising Jetson-style cars for America's near future since some of us were kids back in the Dark Ages. They're still doing it -- and Americans are still buying into it, although possibly with less and less hope that these awesome vehicles might actually become reality.
Of the "6 Amazing Cars From the Future" to be introduced at this year's LA Auto Show, most are for drooling over by game players. But two have taken the environment into consideration -- which is probably going to be a necessity in 2030, the year the cars are designed for.
Nissan Design America V2G [pdf] -- an electric car -- is designed to be the "eco-neutral commuter car for 2030."
---