Geothermal heating and cooling - why we chose a closed-loop system
(Read article summary)
Geothermal heating and cooling systems come in closed-loop and open-loop types. Which is best?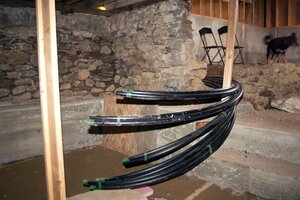 Joanne Ciccarello/Staff/The Christian Science Monitor
The wonder of a geothermal heating and cooling system is that it uses use the energy naturally stored in the ground to heat and cool your house.
Some extra juice is needed, of course, to run a heat pump to keep the system operating, but it amounts to a fraction – as little as 30 percent – of what a traditional gas or oil burner would use. Your main source of comfort in your home is just what's under the good green earth.
That was in perfect harmony with my vision of our green renovation of Sheep Dog Hollow, and so it made sense to put it in, even though it cost significantly more than a traditional heating system.
Still, the payback in terms of tax credits and long-term energy savings convinced us that in the long term it was indeed economical – even it appears initially to break the bank.
Next we had to choose what kind of geothermal system to put in. There are several, but the two types most commonly used are a closed loop and an open loop.
---