Did 2008 Wenchuan quake strike because China filled a reservoir?
(Read article summary)
Water from the Zipingpu Reservoir in China stressed two nearby faults in ways that hastened the 2008 Wenchuan earthquake by tens to hundreds of years, scientists say.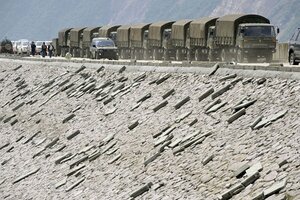 AFP
Scientists have seen this one before: Fill a reservoir behind a new dam, and, oops, you trigger an earthquake nearby not long after the lake is topped off.
Now, a team of researchers led by the University of Colorado's Shemin Ge suggest that this could well be what happened with the devastating Wenchuan earthquake in China's Sichuan Province in May 2008.
According to the Chinese government, the magnitude 8.0 quake left nearly 68,000 people killed, some 374,000 injured, and 18,500 people listed at the time as missing. Some estimates put the disaster's price tag at more than $75 billion. You can read more about the quake here, here, and here.
The reservoir in question is the Zipingpu Reservoir. It was filled in late 2005 and reached its maximum water level in December 2006. The reservoir is situated between the two faults that ruptured during that quake.
One of the two faults, the Yingxui-Beichuan Fault, virtually borders the reservoir; the second is roughly four miles away. The quake's epicenter was roughly 12 miles from the reservoir.
How would a reservoir affect nearby faults? The most obvious possibility is the weight of the water. It could add stress to a fault. Indeed, that was the focus of initial attempts to estimate the reservoir's possible influence on the faults responsible for the quake.
---