Two big advantages of closed-loop geothermal systems
(Read article summary)
Should you install a closed-loop or open-loop geothermal heating and cooling system? The advantages of closed-loop can save money.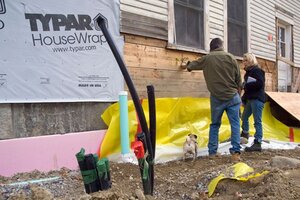 Joanne Ciccarello/Staff/The Christian Science Monitor
When our heating contractor Tony Silverio told us we had a choice between a closed loop and an open loop geothermal system, our first inclination was simply to go with the least expensive.
That's in part because we already knew we'd be spending significantly more upfront for a geothermal system than we would have for traditional heating in exchange for the long-term savings geothermal produces.
And one of our goals in renovating Sheep Dog Hollow is to test the assertion that building green and economically are no longer mutually exclusive. (I'm finding that they're not, but only if you're looking at a five- to 10-year time frame ... but more on that later.)
While we wanted to go for the less costly open-loop geothermal system, Tony was quite clear that he'd recommend the more expensive closed-loop system.
Now, when a contractor tells you have a choice of two types of systems – one is probably cheaper and produces more heat while the other costs more and produces less – you do have to wonder.
His explanation made sense, though. A closed-loop system is more reliable and requires less maintenance in the long term. With an open-loop system, he noted, you are also taking a chance that the wells dug on your property will produce as many gallons per minute of clean water necessary to make the system work.
It sounded convincing, but I still wanted to talk with someone else local who also had lots of experience in geothermal. So I called Ray Sima, a local well-driller who'd been putting in geothermal systems since the 1970s, including in nine homes of family members.
---