Hacked climate emails: conspiracy or tempest in a teapot?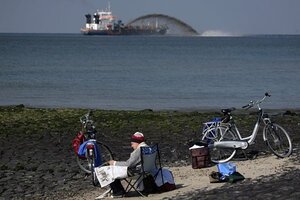 AP/FILE
For all its gee-whiz discoveries and its influence on public policy, science can be a messy, sometimes ugly enterprise.
When the science is paleontology, astronomy, or geophysics, internal politics, thinly or not-so-thinly veiled personal attacks, and water-cooler discussions among influential scientists about whose research is junk and not worth publishing draw a collective yawn from anyone outside the relatively small circle of researchers involved.
When the topic is global warming, however, look out.
This week, more than 169 megabytes worth of global-warming emails and related files were either hacked and/or leaked from computers at the University of East Anglia's Climatic Research Center in Britain and released to the world via the Internet.
(If you're interested in poring through some 169 megabytes of emails and files, you can download 26-megabyte FOI2009.zip from here, then unpack it. You'll need to set up a free account, then you can download the file.)
The package includes a number of innocuous discussions among the 1,073 emails that span a period from March 1996 to this month. But others treat with disdain colleagues who don't share the views of the majority or who challenge the way data are analyzed. Some emails give the appearance of fudging data. Others show the authors concerned about the ways their methods or data could be (mis)interpreted by global-warming skeptics.
In yet another email, one researcher influential in the Intergovernmental Panel on Climate Change (IPCC) process vows to keep two sets of results from being included in the group's widely cited reports "somehow -- even if if we have to redefine what the peer review literature is."
---