E-waste recycling – are solutions near?
(Read article summary)
Electronic waste is the fastest-growing part of the municipal waste stream, but e-waste recycling lags. Various solutions have been proposed.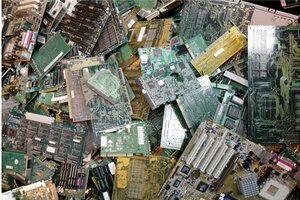 NEWSCOM
Last week, US Rep. Mike Thompson (D) of California introduced a resolution calling on Congress to better manage disposal of old electronics, or e-waste.
The resolution, now in the Committee on House Administration, proposes that the legislative branch recycle its obsolete computers, monitors, cellphones, and other electronic equipment exclusively with recyclers certified by the new e-Stewards Standard.
E-waste poses a large and growing problem around the world. Americans generated 3.01 million tons of the stuff in 2007, according to the Environmental Protection Agency. But only 13.6 percent of it was recycled. The rest went into incinerators and dumps.
Although small in absolute terms, compared to other waste streams, e-waste is the fastest growing portion of the municipal waste stream in the US. Between 2005 and 2006, the amount of trash produced overall increased by 1.2 percent. E-waste, however, increased by 8.6 percent.
Worldwide, e-waste now accounts for more than 5 percent of everything thrown out in cities. (For more e-waste facts and figures, see the Electronics TakeBack Coalition's fact sheet [PDF].)
---
Subscribe to Recharge
Get the Monitor stories you care about delivered to your inbox.