Storm continues to swirl around Climategate, as multiple investigations get under way
(Read article summary)
Climategate isn't going away. A storm of controversy over hacked global warming e-mails still swirls and has caused East Anglia and Penn State Universities to launch investigations.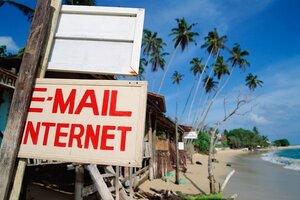 NEWSCOM
When e-mails of climate scientists hacked from a British University were published online, the reverberations were heard around the world.
Skeptics of human-caused climate change were elated: Several of the e-mails could be read to indicate that data was inaccurate or fudged, and some seemed to imply collusion about who and what was posted about global warming in peer-reviewed journals.
A couple of weeks later, the controversy continues to swirl like a tornado. Even Jon Stewart has weighed in on it.
Among the latest news, the University of East Anglia announced an independent reviewer of the e-mails and outlined exactly what he would investigate.
What Sir Muir Russell, until recently vice-chancellor at the University of Glasgow, will look at includes many of the serious questions that have been raised.
---